light, cheap, economical.
Get to know more about the advantages of the
squAIR-timber® system.
In terms of performance, squAIR-timber sets standards. Extensively loaded, one meter of the new material carries up to 5 tons with a net weight of only 1.2 kilogrammes per meter. Talking of wood, the own weight is 3-4 kilogrammes per meter.
The systems framework basic and advanced were developed espacially for the ULD build up in F-contour. The construction saves compared to wooden pallets per ULD:
15 minutes and 125 kg weight!
If squAIR-timber skids are used seperate as a "square wood-substitute" they have a load capacity of up to 10.000 kg. To use as a pallet skid they are optionally available with adhesive hotmelt coating.
In practice, the squAIR-timber lightweight solution is tailored for every user according to his requirements. In this example: DB-Schenker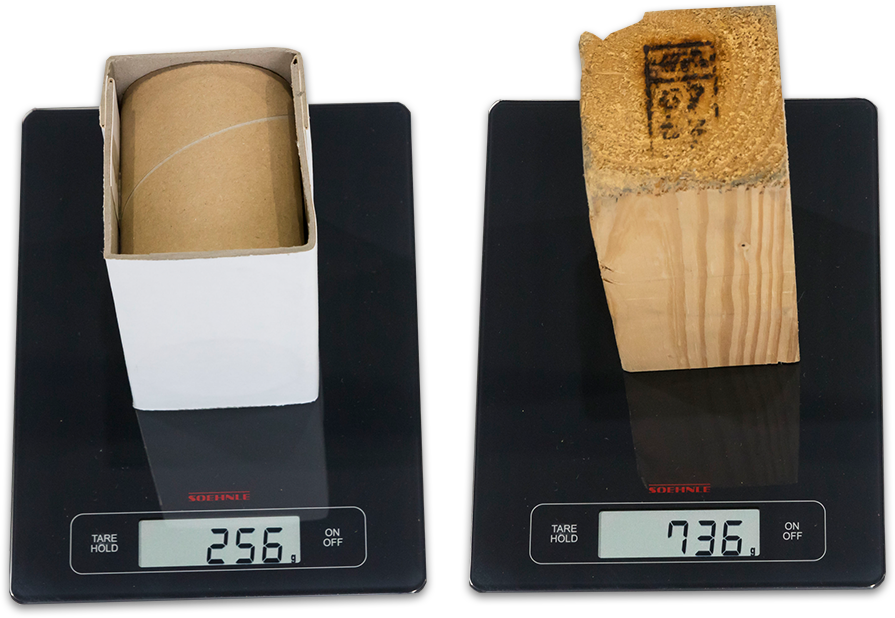 80% lighter than wood
125 kg weight saving / ULD
15 minutes time saving / ULD
static load capacity: up to 10.000 kg
own weight 1.2kg/m
in bulk purchase cheaper than wood
IPPC / ISPM 15 compliant
built for multiple use
manufactured of 100% recycled material and 100% recyclable
avoid wood disposal costs
the incorporation of special kraftliner connections make the material enormously resistant even against moisture!
made in germany
100% recycled material. 100% recyclable.
Our interpretation of sustainability
The squAIR-timber material is trilatec´s development and contains only raw material from sustainable sources.
The basis for the extraordinary pressure, impact and tensile strength of this material, is the incorporation of a special cold glue kraftliner connection. The additional lamination makes this material enormously strong and gives it the astounding resistance, also against moisture. The key advantage is the lamination combined with a silicon paper coating creating a moisture-resistant barrier. This distinguishes the material significantly from conventional corrugated board products. At the same time  it is 100% recyclable.
Disposal costs as in the use of wood are avoided, since it can be disposed of after multiple usage via the paper waste. Thus squAIR-timber provides excellent economical and ecological basis for replacing wood long-term.
Worldwide unique production
100% Made in Germany
Questions regarding details of our product?
Request more information material